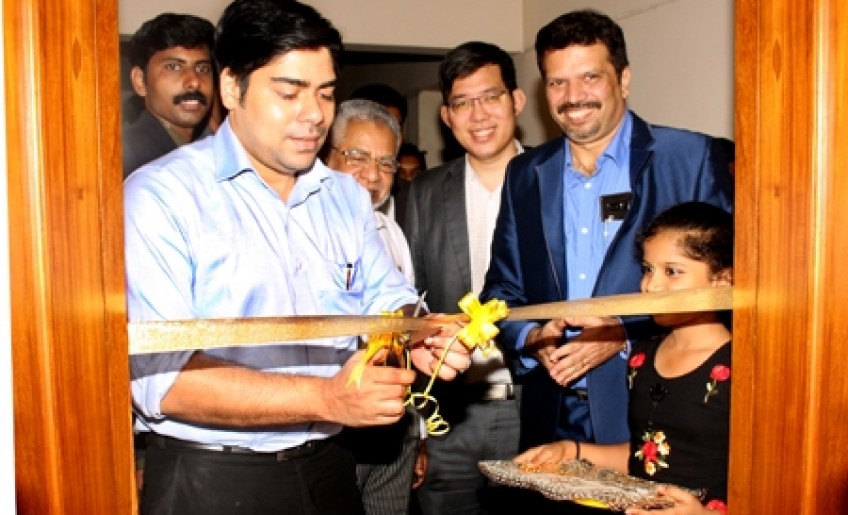 Kochi: Partnering with Singapore-based Neeuro Pte Ltd, SMA Abacus India ( P) Ltd has opened South India's first Neeuro Brain Lab in Kochi. Mr. S. Suhas IAS, District Collector, Ernakulam inaugurated the Lab at the SMA Abacus premise,SRM Road, Kochi.
Neeuro is a global Digital Mental Health platform that is backed by a portfolio of patented and clinically validated research with Singapore's National Research Agency to empower digital therapeutics and brain fitness solutions. Its core technology, NeeuroOS, empowers Digital Mental Health and Brain Fitness solution providers with an Artificial Intelligence (AI) platform to easily harness data from the brain and measure its different states such as attention, relaxation, fatigue, etc. Companies can then focus on their core offerings and go-to-market strategies. The solutions include digital therapeutics for ADHD, anxiety, pain management, etc. It also powers brain fitness applications such as improving children's, working adults' and seniors' cognition.
Neeuro believes that the brain's potential is not maximized most of the time.As such, Neeuro is breaking the barrier in utilising the human brain's capacity and is advocating a better way of doing things by executing tasks with high attention and focus.
Kelly Choo, Chief Marketing Officer and Co-Founder of Neeuro Pte Ltd said that the company established its vision of making brain training solutions accessible and uncomplicated for everyone through continuous efforts in collaborating with different institutions and professionals .These efforts resulted in the launch of different brain training products, and solutions that help increase the cognitive performance of students, professionals, and seniors, who are continuously experiencing cognitive challenges. Neeuro is striving to make 21st-century human cognition better and sees it as the utmost importance.
Cognitive ability is key to achieving career goals. highly focused and cognitively performing individual can identify issues, view situations more broadly, and provide solutions when faced withchallenges in the workplace. Attention, memory, decision making, spatial ability, and cognitive flexibility are all part of the 5 cognitive skills that Neeuro's solution focuses on. Neeuro has seen good results in India while running the brain training curriculum.
Extreme stress during childhood can hurt social learning for years to come . The school is designed for children as an ideal place to grow and be prepared for life's challenges. Better attention, logical reasoning, mental flexibility, and analysis can help students keep pace and learn faster.
Instead of being stressed, students with developed cognitive skills can better focus on the solution. Neeuro advocates stress management for all ages. When kids grow up, stress
To promote the importance of cognitive skills development in India, Neeuro will be running an online competition for the Brainiest Kid. All 6 to 17-year-old primary and secondary students based in India are eligible to join. Neeuro will be testing children's abilities using Multitask Master, a game from its Memorie app.
The game Multitask Master, contrary to its name, does not train individuals on multitasking but rather on improving mental flexibility and processing speed as they must answer a battery of questions from 2 panels (left and right), successively. The goal is to prove how cognitive flexibility can make someone more productive especially among children.
Winners will take home a brand-new Samsung Tablet, a Neeuro SenzeBand, a Trophy, and a certificate.
Neeuro, with its partners, is looking forward to launching this event:
Today, Neeuro's Brainiest Kid Competition 2019 is one of the most awaited events by schools in India. For more details on how to win and join the competition, visit https://www.neeuro.com/brainiest-kid-india.
"Over the past few months, we've been talking to Neeuro about how we can better help our children in India and one of the fruits of these discussions is the launching of South India's first NeeuroLab. We see this partnership with Neeuro as a great opportunity to educate not only children but also adults, parents especially, on the importance of training the brain and unlocking potentials of young kids.",R.G.Suresh Babu, MD and CEO of SMA Abacus India Pvt Ltd.
Photo Caption:
Mr. S. Suhas IAS, District Collector, Ernakulam inaugurating the first Neeuro Brain Lab of South India at SMA Abacus premise, SRM Road, Kochi. Advocate T.P. M. Ibrahim Khan, President, Kerala CBSE Management Association, Mr. Kelly Choo, Chief Marketing Officer and Co-Founder of Neeuro Pte Ltd, and R.G. Suresh Babu, Managing Director, SMA Abacus India (P) Ltd are also seen