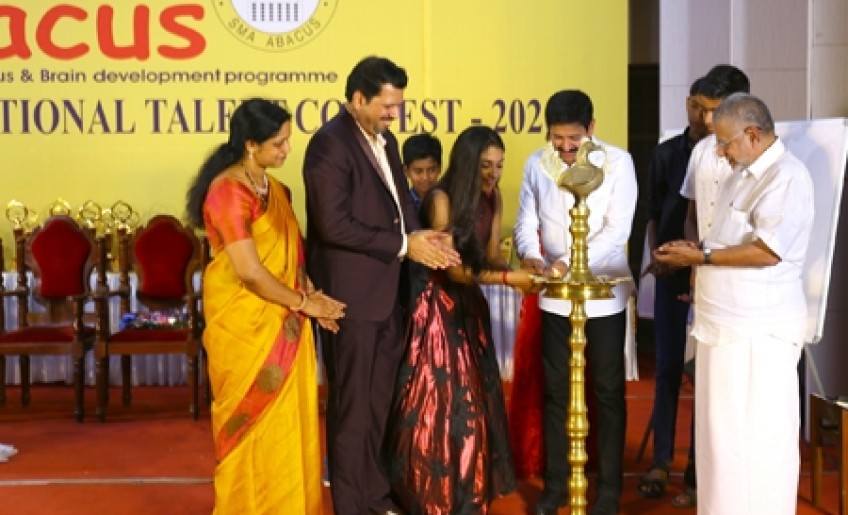 NEHA T K( PANANGAD NORTH AUP SCHOOL, BALUSSERY, KOZHIKKODE) in the senior category and SREELAKSHMI V (SREE SANKARA VIDYALAYA, VAIKKOM , KOTTAYAM DT) in junior category adjudged champions at the 14th SMA Abacus National Talent Contest held in Kochi.
In the senior category Second position was won by AKASH S (GHSS AYYANKOIKKAL, THEVALAKKARA, KOLLAM ) and JOFIN JOSE (JYOTHINIVAS SENIOR SECONDARY SCHOOL,ALUVA) and SOFIYA ALPHY SHIBU (RAJAGIRI CHRISTU JAYANTI PUBLIC SCHOOL,KAKKANAD ERNAKULAM) stood third.
In the junior category, SREE SHANKARI (SAASWATHI VIDYANIKETAN, ELAMAKKARA, ERNAKULAM ) and JOEL A MATHEW( ST.THOMAS PUBLIC SCHOOL, CHANDAVILA, TRIVANDRUM) has won second position and JOANNA SACHIN (THE CHOICES SCHOOL, ERNAKULAM ) won the third position.
Champions in the High-Speed Abacus oral Competition are:
1st - HARIKRISHNAN H ( SREE BUDHA CENTRAL SCHOOL, KARUNAGAPPALLY)
2nd - NIRANJANA MANYIL(BHAVANS MUNSHI VIDYASHRAM,THIRUVANKULAM)
3rd- ABHINAND RAJESH (BHAVANS MUNSHI VIDYASHRAM,THIRUVANKULAM)
Graduation ceremony of 8th Level completed students, Demo of Abacus, Memory Techniques, Calendar memorization and Abacus high speed oral competition , Rubik's cube solving competition were also held as part of the annual meet.
There was an interesting competition in which one of the audience came with a calculator to compete with SMA students in which SMA students gave the answer before volunteer started to calculate on the calculator. SMA students showed their ability in memorizing and recalling 20 objects given by the audience within a minute. SMA students easily found out the day of any date in 400 years( Eg: 12th May 1965 , the day is Wednesday).
SMA student also showed his caliber in multitasking by doing mental calculations while playing a Mridangam
Renowned Magician Gopinath Muthukad inaugurated the 14th SMA Abacus National Talent Contest, which saw more than 3000 participations from different centers of SMA across India. Kerala CBSE Management Association President T.P.M Ibrahim Khan presided over the function. Child Cine Star Janaki Menon and SMA Abacus (India) Private Ltd Managing Director of R.G. Suresh Babu also spoke on the occasion.
Photo Caption:
Gopinath Muthukad inaugurating the 14th SMA Abacus National Talent Contest in Kochi. SMA Abacus chief coordinator Mrs. Meghana Suresh, SMA Abacus Managing Director R.G. Suresh Babu, Child Cine Star Janaki Menon and Kerala CBSE Management Association President T.P.M Ibrahim Khan are also seen