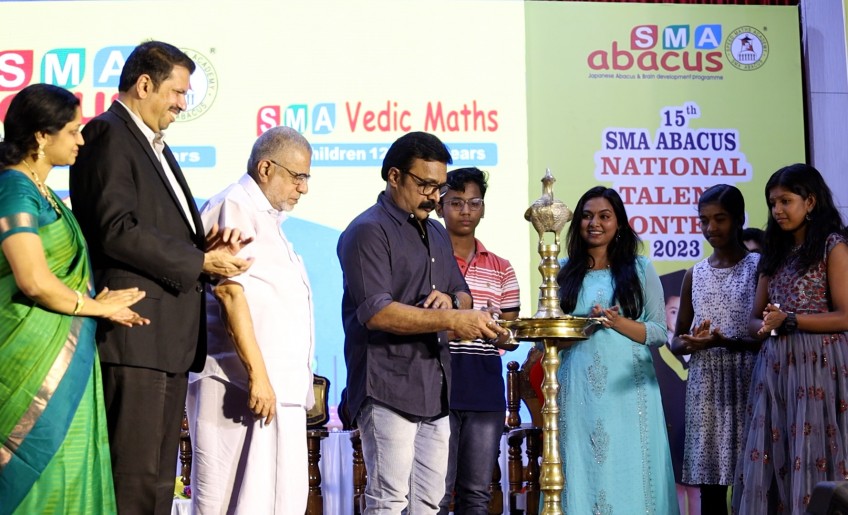 NEHA SHALOOF from Chavara CMI School in Koonammavu, Ernakulam and DEETYA NAIR Amritha Vidyalayam Kaimanam in Trivandrum were declared champions in the junior and senior categories, respectively, at the 15th SMA Abacus National Talent Contest held in Kochi.
In the Junior category, AISWARYA AJITH M from Kendriya Vidyalaya in Trichy, Tamil Nadu secures the second place, HITHA H S from Sree chithira vilasam UPS in Mynagapilly takes the third place.
In the Senior category, POOJA SIJU from Nirmala Higher Secondary School in Aluva earns the second place, while ALI FATHIMA S from CHRIST NAGAR SR.SECONDARY SCHOOL in THIRUVALLOM, TRIVANDRUM claims the third place.
In the High-Speed Abacus Oral Competition, NIKHIL S KAMATH from BHAVANS VIDYAMANDIR in GIRINAGAR took the first place, VAISHNAVI M from KOVOOR UPS in KOLLAM came in second, and HARINANDAN B from SN UPS in VAIKOM came in third place. It was a very competitive contest and all the participants did an excellent job
The graduation ceremony of 8th Level completed students was a grand event, where students showcased their skills in a demonstration of Abacus, Memory Techniques, Calendar memorization, and Abacus high-speed oral competition. A Rubik's cube solving competition was also held as part of the annual meet, adding an element of fun and excitement to the proceedings. It was a day filled with pride and joy for the students and teachers alike, as they celebrated the achievements of the students.
The highlight of the event was a unique competition in which an audience member came forward with a calculator, but the SMA students were able to give the answers before the volunteer even started to calculate. The students also amazed the crowd with their ability to memorize and recall 20 objects within a minute, and their proficiency in finding the day of any date within 400 years, such as 28th June 1958, which was a Saturday.
N.Bhahyashree, one of the students, showed her multitasking skills by doing mental calculations while singing. Sumisha S Pai also amazed the audience with her multitasking skills, doing mental calculations while doing hula hoop dance and solving the Rubik's cube at the same time. Overall, it was an impressive display of the students' abilities and hard work.
The event was inaugurated by renowned Cine Script Writer and Director Renji Panicker, and was presided over by Kerala CBSE Management Association President T.P.M Ibrahim Khan. Playback singer Gayathry Rajiv and SMA Abacus (India) Private Ltd Managing Director R.G. Suresh Babu also spoke at the occasion, which saw over 3000 participants from different SMA centers across India.
Photo Caption:
Renji Panicker inaugurating the 15th SMA Abacus National Talent Contest in Kochi. SMA Abacus Chief Technology Officer Meghana Suresh, SMA Abacus Managing Director R.G. Suresh Babu, . Play back singer Gayathry Rajiv and Kerala CBSE Management Association President T.P.M Ibrahim Khan are also seen